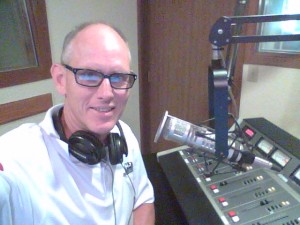 It all started as a teenager listening to my transistor radio (in the dark after bedtime with the volume very low). Those guys talking were cool and the music they played was the best. They painted pictures in my mind clearer than seeing it for real. I was hooked! I was born and raised in rural Wisconsin. After broadcasting school in the 70's, I landed my first job at WTMB. (Yes, this WTMB!) The frequency and format has changed but I find myself here on-the-air almost 40 years later. I did take a break and travelled the world for 7 years (29 countries), with what still is the world's largest live entertainment company. While doing so I listened to and recorded foreign radio with my cassette Walkman everywhere I went. Now you can do that with your smart phone…without leaving your bedroom, if you like. Crazy! Learned to say thank you in over a dozen languages…but that too, you can do with your smart phone. Have one child, a beautiful daughter, currently living in the Netherlands with her Mama and Oma…was 50 when she was born. She's keeping me young.
Like to ride my custom shovel head ('77 Harley)…and work at the creek, some property that's been in my family since the '50's. Pretty big sports fan with the Big 3, PACKERS, (Everything BADGERS) and the Brewers.(Sorry Bucks…but I'll come back).
Music is memories, especially with CLASSIC ROCK. Doesn't matter what decade, it's history. They say "don't look back," but we HAVE to with CLASSIC ROCK. Have acquired a lot of vinyl over the years and have 2 turntables to spin them on. Grateful to have the opportunity to share on-the-air. Keep on Rockin' …and thanks for taking a look.